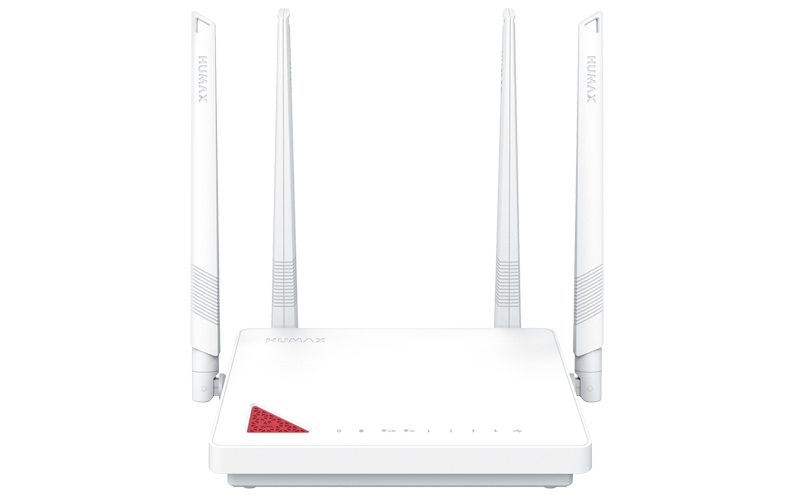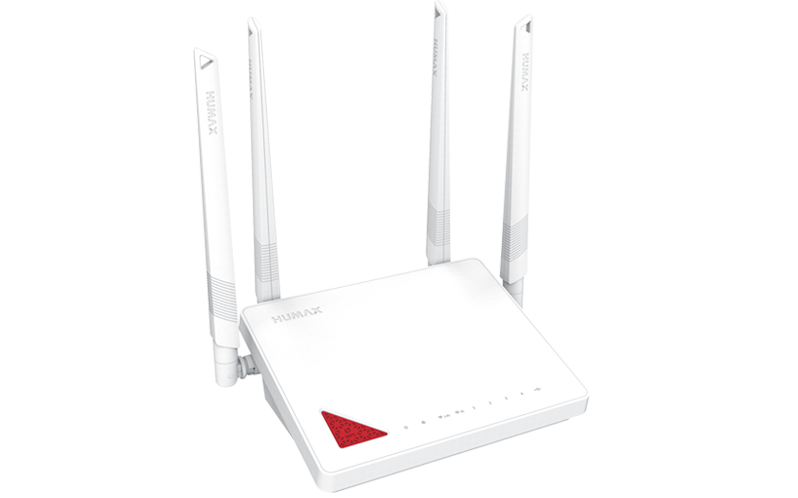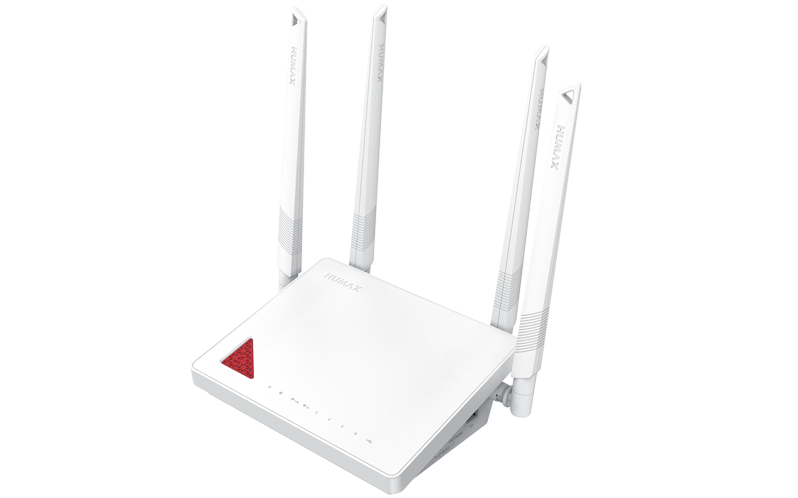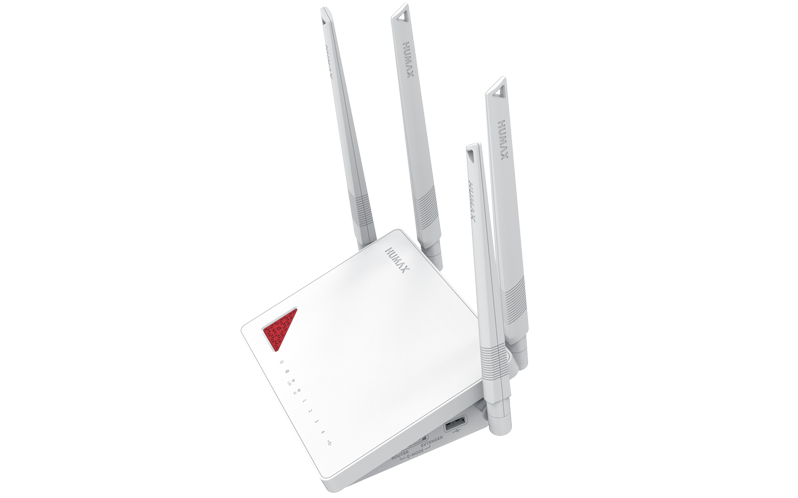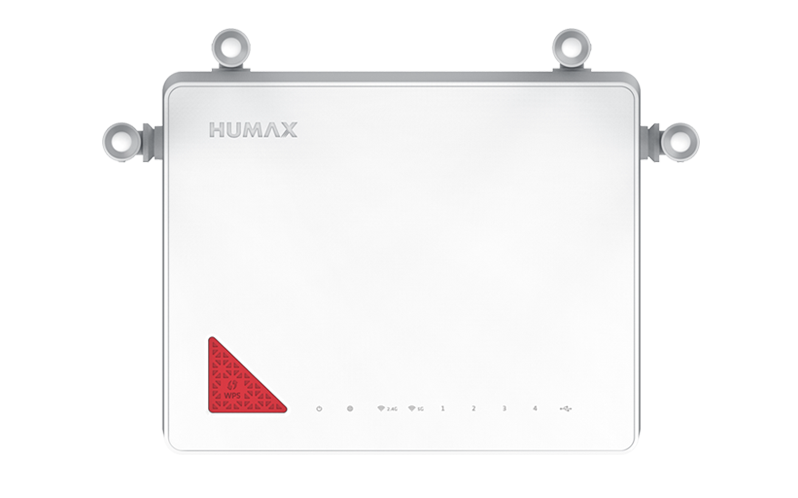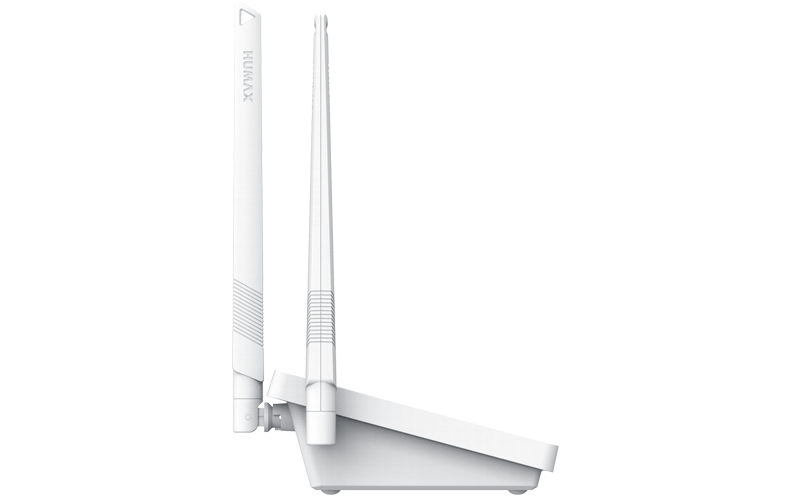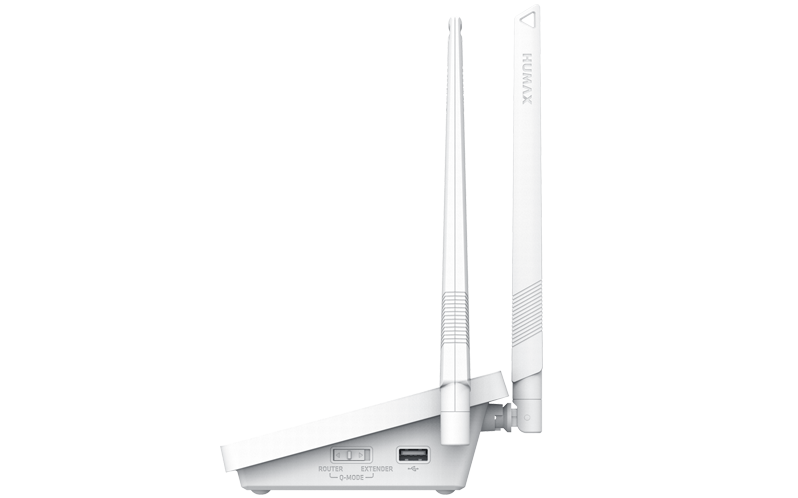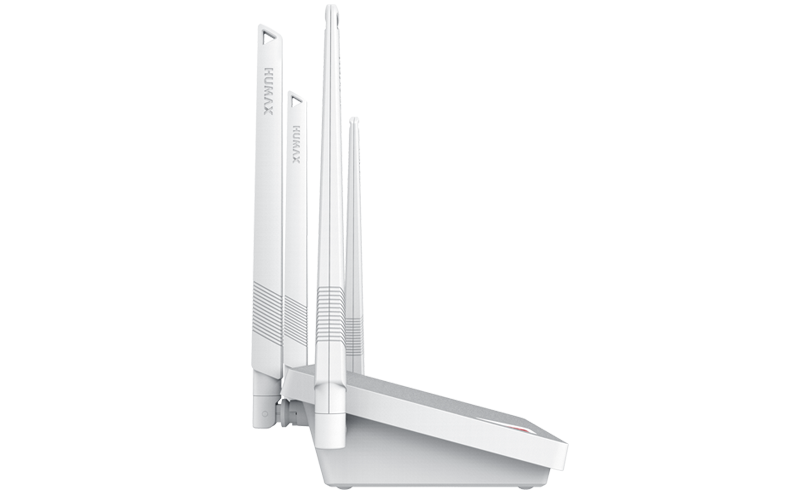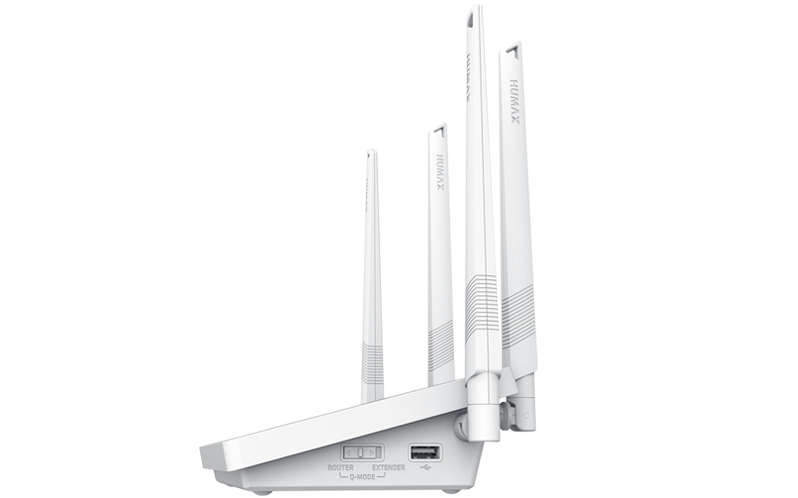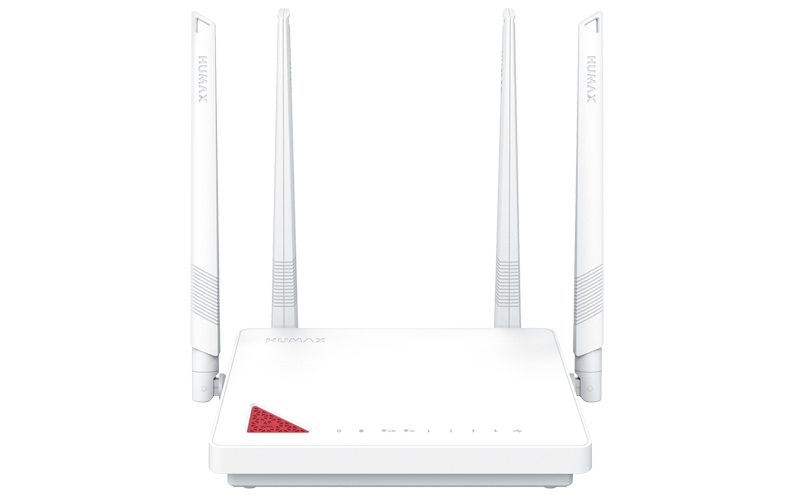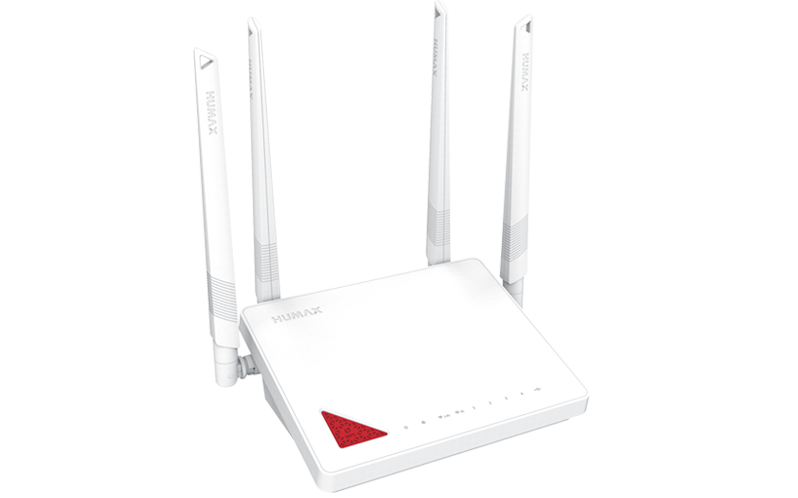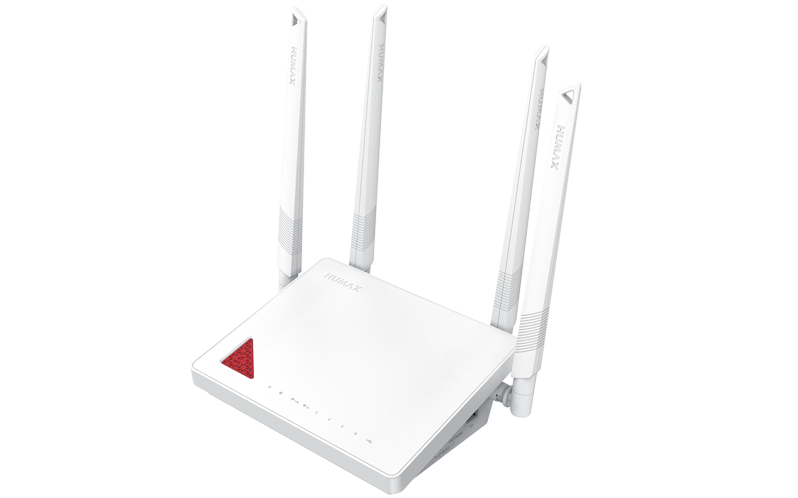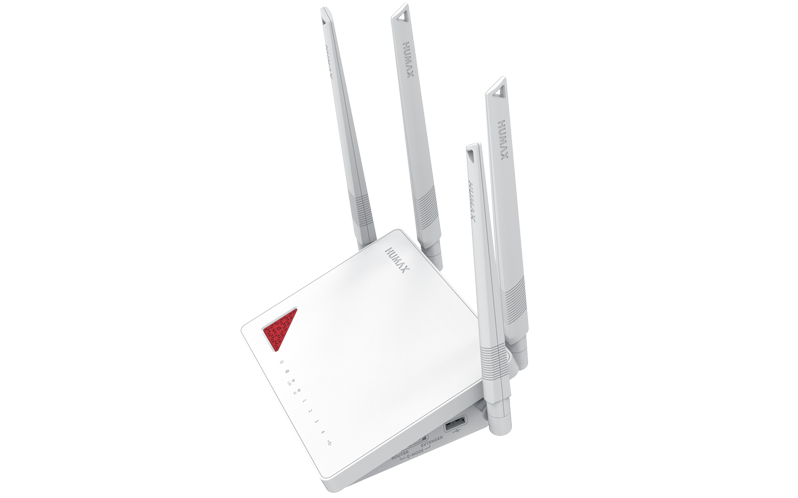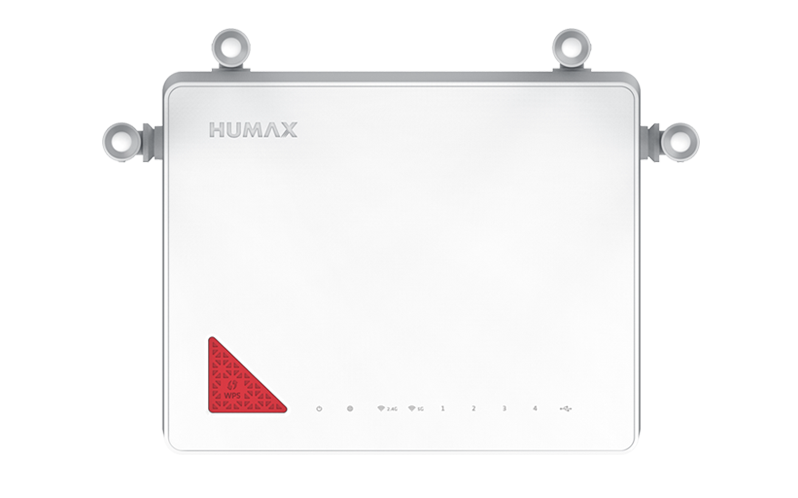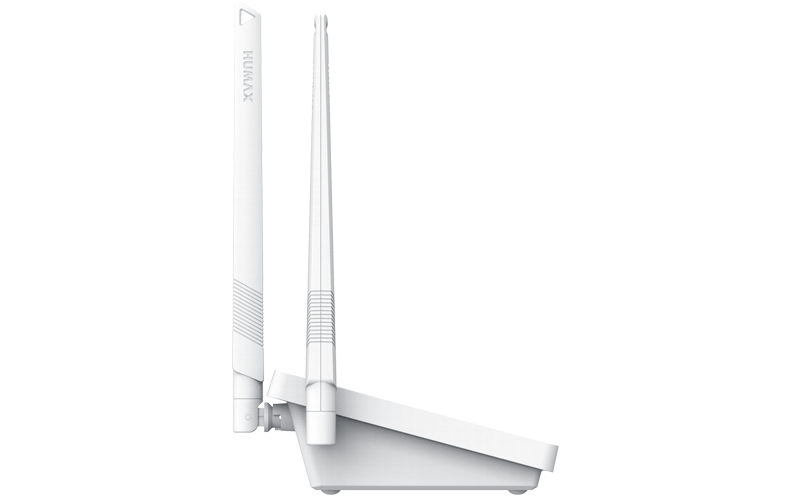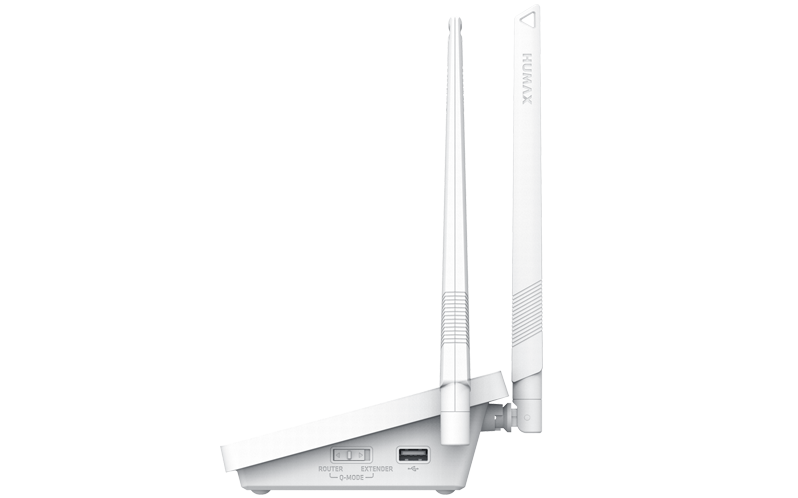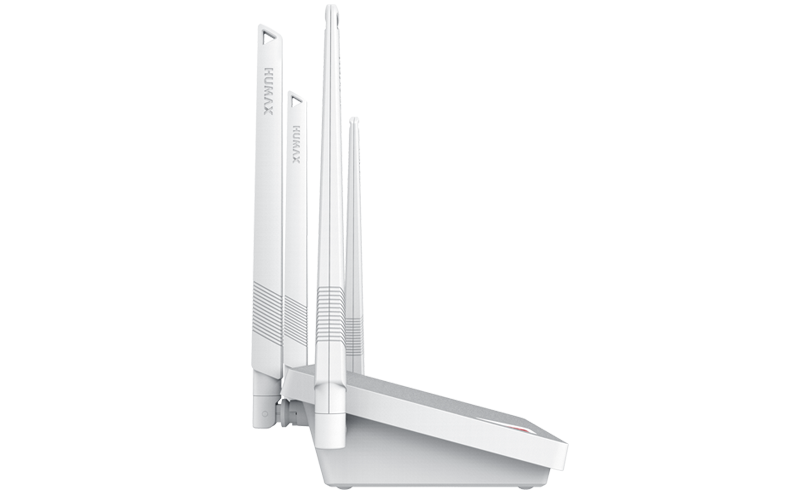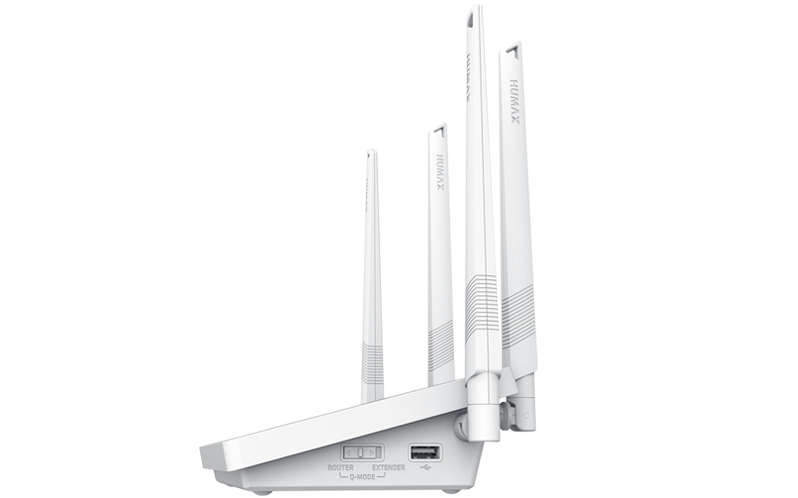 Multi-Function Wi-Fi Router
Wi-Fi Class: AC1200 (300Mbps at 2.4GHz, 900Mbps at 5GHz)
Dual Band Wi-Fi – Tx/Rx 2x2 (2.4GHz), 2x2 (5GHz)
Four(4) External Antennas
Adaptive Beamforming – optimize performance by focusing Wi-Fi signal
Parental Control – protect your children from internet addiction.
Quality of Service – prioritize network traffic (streaming, gaming and more)
USB for media sharing and network print server
Wired/Wireless Backhaul
IPv6 Support (Internet Protocol Version 6)
HUMAX T3Av2
AC1200 Multi-Function
This is an AC1200 dual band Gigabit wireless router providing the greatest convenience of a home network setup featuring Mesh & Roaming to maximize Wi-Fi coverage, easy media server formation via the USB port, QoS and parental control, etc.
World's First Dual Booting Mode: Use As A Router Or Extender
Featuring the world's first dual booting mode support the use as a router or an extender. Expand your network by easily switching between both functions via the Q-Mode as well as the ability to connect with any product by superior compatibility.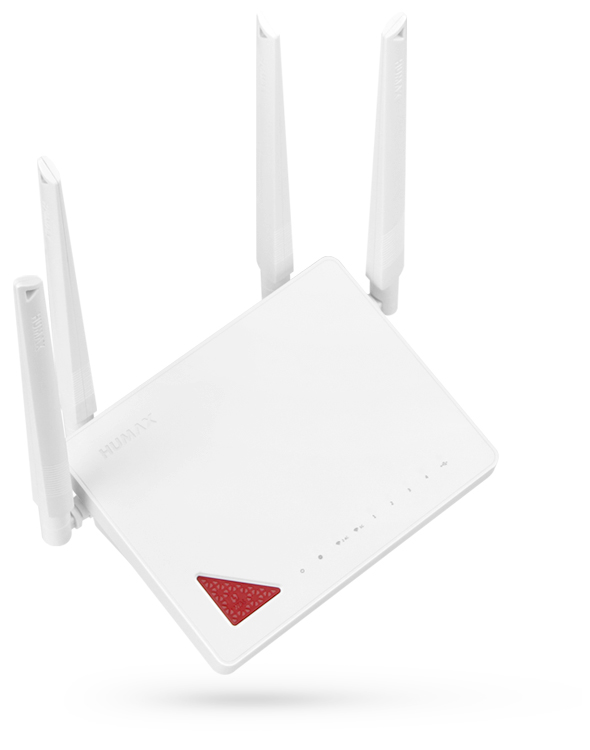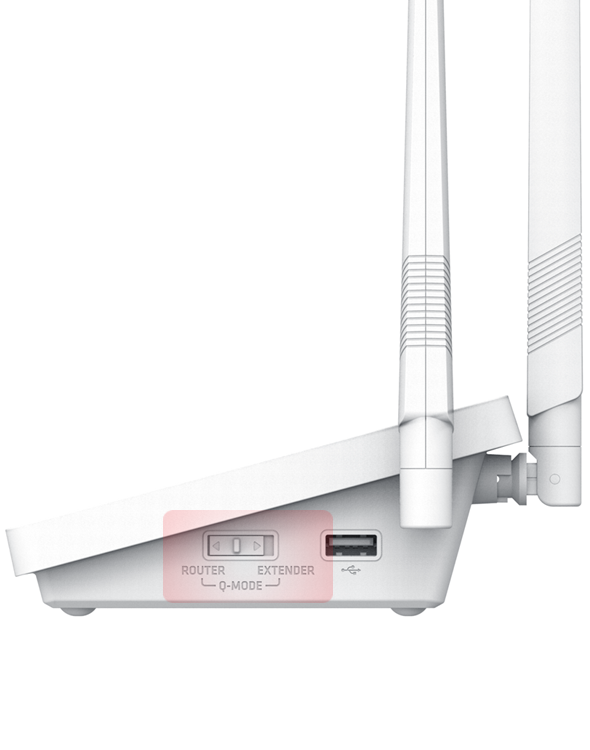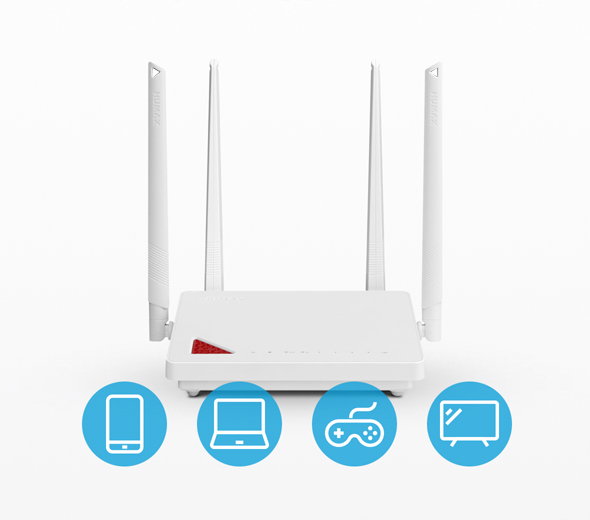 Use As A Router
Simply connect to the Internet and use as a normal router. Experience quick network speeds, minimal delays, and wide wireless Wi-Fi coverage.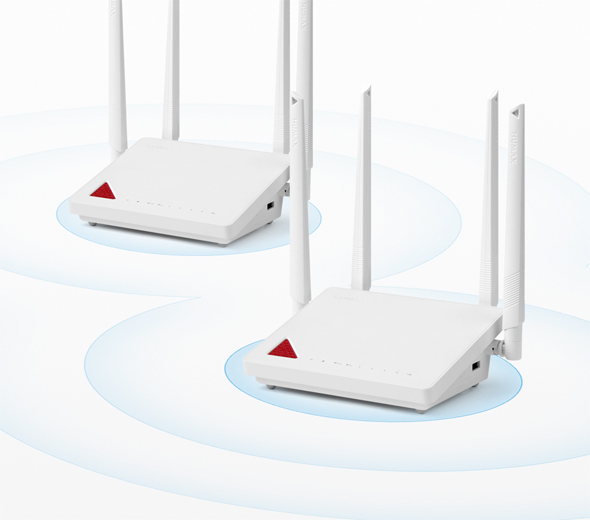 Use As An Extender
After powering on, extend your Wi-Fi signal throughout the home following a few simple steps for configuration. Connect with the other HUMAX Multi-Function router(s) to form an uninterrupted, strong roaming & mesh network.
Optimized To Be Your Personal Mesh Solution
HUMAX mesh solution blankets the whole home with a single network that expands the Wi-Fi signal into every nook and corner. In addition, it finds the most optimized signal to connect all the network devices for the strongest and most stable data performance.

Seamless Flexible Wi-Fi Roaming Solution
Connecting to the HUMAX Multi-Function router and extender forms an uninterrupted home network under a single network name (SSID). The Wi-Fi signal blankets your home for uninterrupted Wi-Fi no matter how much you move around, even when the wireless signal is weak. Enjoy stress-free streaming services and video calls anywhere in your home.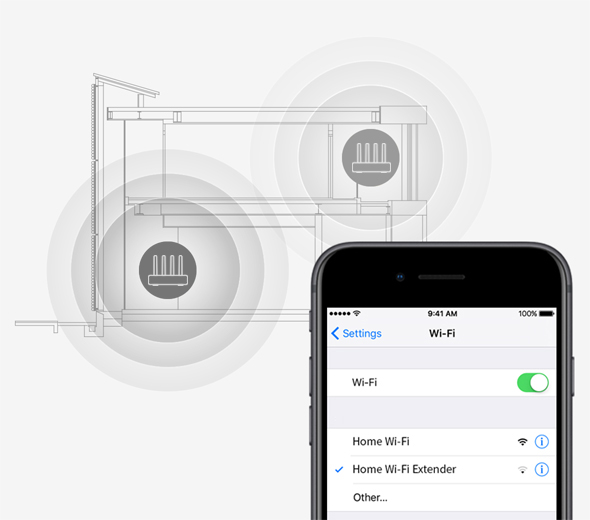 Existing Home Network
The router and extender will each have its own SSID, making it unnecessary to find the SSID with the strongest wireless signal in the home and connect each time.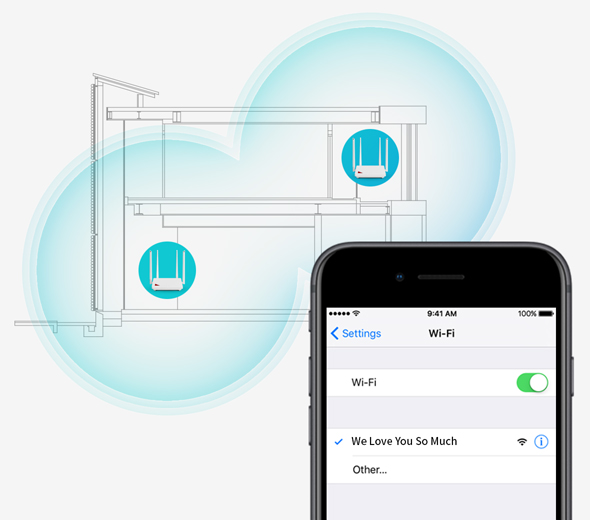 HUMAX Seamless Home Network
The router and extender can be set up as an integrated network with a single SSID to guarantee the fastest and strongest wireless connection throughout the home.
Dual Band High-Speed Network Realization
As a dual band type router, both 2.4GHz and 5GHz wireless bandwidths are supported simultaneously. The 2.4GHz bandwidth blankets the home for web surfing, emailing, file sharing, and other common functions. When speed is important, the 5GHz bandwidth provides strong network performance without buffering for online gaming, high definition videos streaming, etc.
MU-MIMO For More Connections
Everyone connected to the network can experience fast, high speed internet connections with MU-MIMO technology that supports 4 simultaneous data streams for speeds up to 4 times faster than common AC routers, for all devices connected to the network.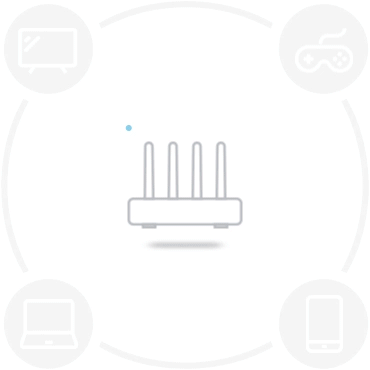 Single-User MIMO
Wi-Fi to one device at a time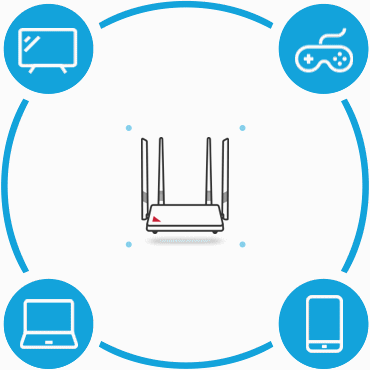 Multi-User MIMO
Wi-Fi to multiple devices at the same time
Beamforming Technology For Concentrating Wireless Signals To Devices In Use
Beamforming technology senses devices receiving the antenna waves and focuses the wireless signals. This extends the wireless connection range while establishing a stable, reliable wireless network.
Easy And Convenient Home Media Server
Use the USB port to build a personal network server. Connect a USB memory or hard disk to use as an NAS, utilize as a SAMBA or printer server, or build an FTP server to manage files remotely. In addition, DLNA support allows unlimited sharing of pictures, videos, and other files between all multimedia devices connected to the network. Utilize the included torrent installation program to share files on USB storage devices.
Optimized Port Setup For Media Server Usage
Featuring LAN ports (for Entertainment and Data) with Gigabit performance and USB 2.0 ports to connect to a storage device for stable streaming service and gaming environment as a media server. The media server can be used in both router mode and extender mode so that a home media server can be easily extended.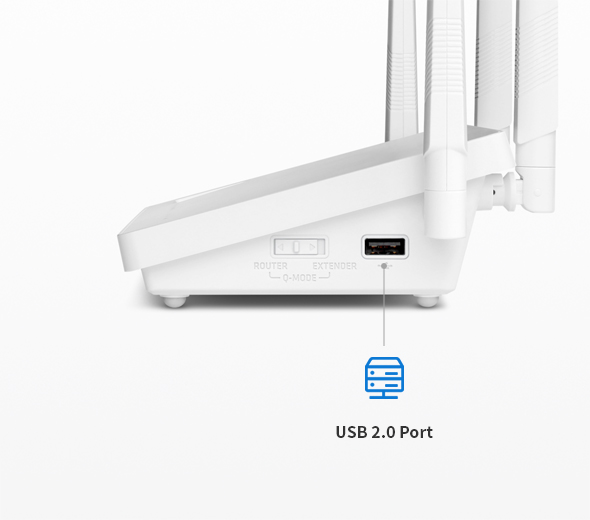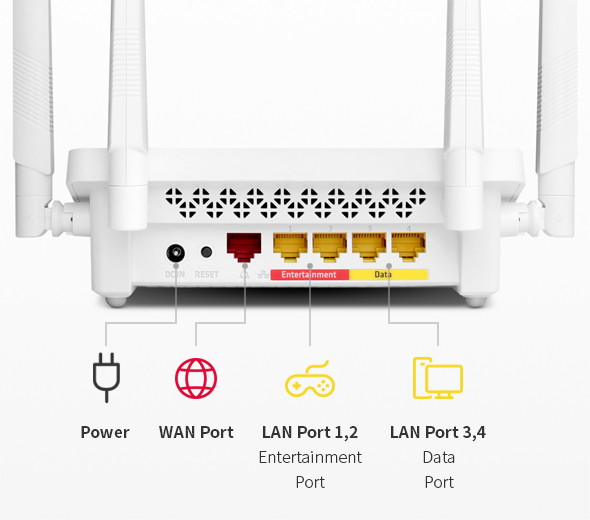 IPTV Optimized Entertainment Port
An optimized entertainment port is provided for watching Netflix, You Tube and other streaming videos. Watch uninterrupted and smooth IPTV.
*Select IPTV function and ISP (KT, SKB, LGU+) in the Web UI after connecting IPTV to the entertainment port.
**During the initial installation, remove the label above the power port before powering on.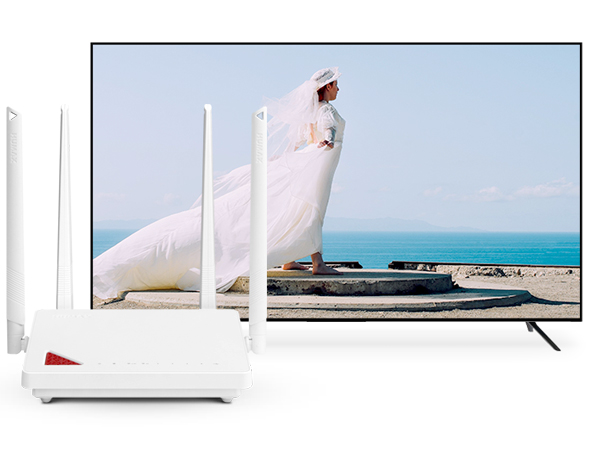 Recognize Any Printer Without Compatibility Issues
Connect the printer to the router to establish a printer server featuring compatibility with most printers. Multiple computers could share a single printer to simply print without complex configurations.
Parental Control Feature
Safely protect children from harmful data. Parental control feature includes keyword filtering of the URL.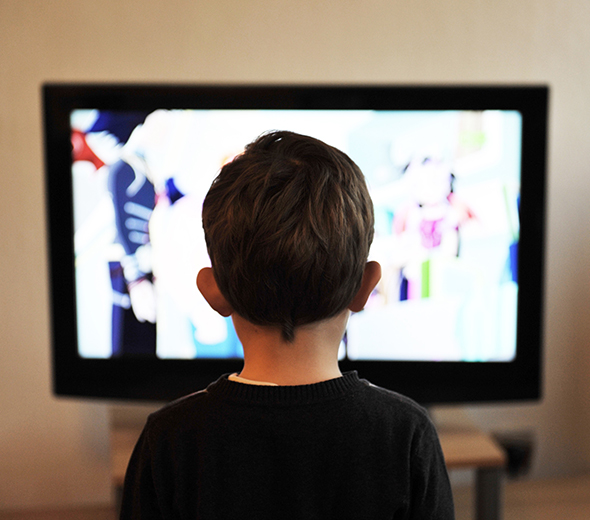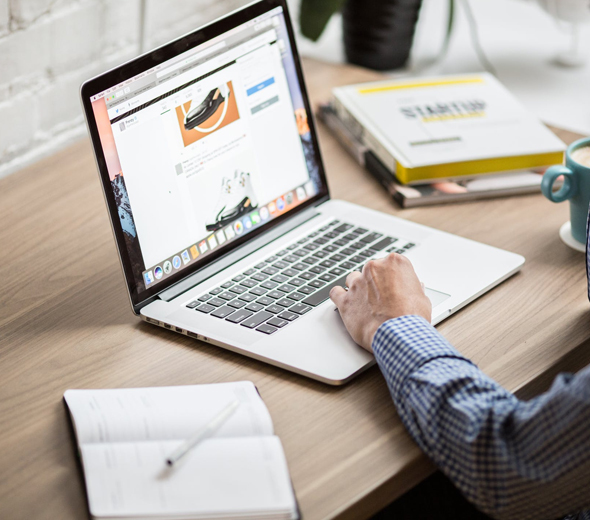 Complimentary DDNS Service
HUMAX provides a complimentary DDNS (Dynamic Domain Name Serivce) service. Use a personal domain address to access your home network anytime and anywhere.
Realize Faster Speeds With Quality Of Service (QoS) Configuration
Use the advanced configuration of Quality of Service (QoS) of network devices and applications to resolve traffic congestion and for faster speeds. When using applications in which speed is important, such as online games video streaming, configure the QoS to allow for more bandwidth and increase speeds.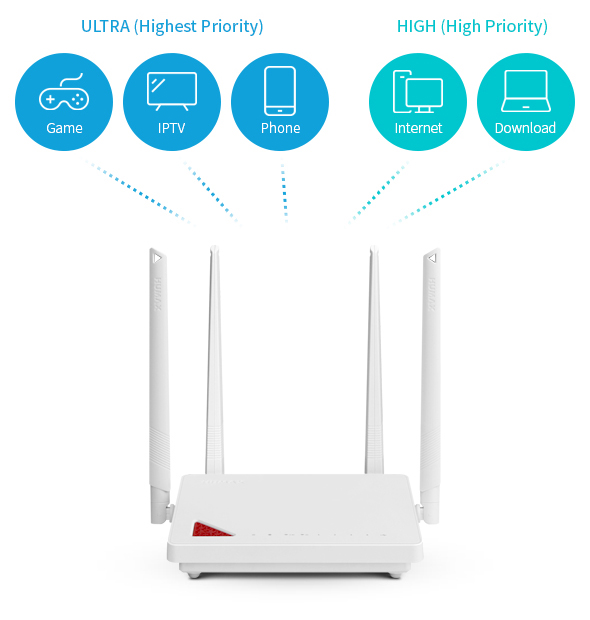 Advanced Features For Convenience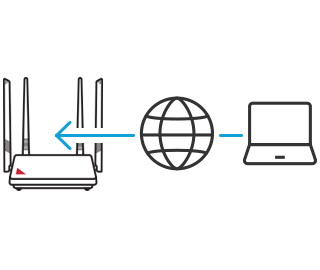 VPN Server & Client
Support of PPTP and L2TP allows safe remote access from distant locations. VPN client function is also supported.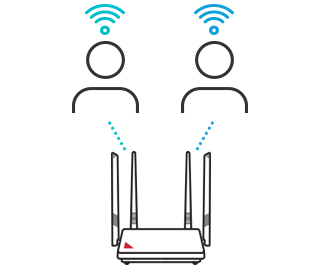 Guest Network
Create up to 3 guest networks for each of the 2.4GHz/5GHz bandwidths and establish security configurations for each network.
TECH SPECS
Specification

Product Category
AC1200 Dual Band Smart Wi-Fi Router
Wi-Fi Technology
IEEE 802.11ac/n/a 5GHz, IEEE 802.11b/g/n 2.4GHz
Wi-Fi Performance
300Mbps at 2.4GHz, 900Mbps at 5GHz

Wi-Fi Band
Simultaneous dual band 2.4 & 5GHz
Antennas
External 2.4GHz 2T2R / 5G 2T2R

Advanced Wi-Fi Technology
Not applicable
MU-MIMO
Yes
Beamforming
Improves range & performance plus for both 2.4 and 5GHz devices.
Number of Ethernet Ports
Five (5) 10/100/1000 (1 WAN and 4 LAN) Gigabit Ethernet ports
Number of USB Ports
One (1) USB 2.0 port
Key Features
• AC1200 Wi-Fi (300+900 Mbps) speeds
• Roaming & Mesh technology always works connected to the best Wi-Fi signal where users can move room to room and floor to floor.
• Entertainment Port - Works as its optimal level to give you a super-smooth, uninterrupted streaming and gaming experience.
• Q-MODE Switch(Easy operation mode) supports 7 modes 1) Router 2) WISP 3) Repeater 4) Wireless Bridge 5) AP 6) Roaming 7) Mesh. Wherever the place is and whatever the device is, Q-MODE will help you make home network automatically and easily.
• Beamforming - Improves range & performance plus for both 2.4 and 5GHz devices
• QoS - Prioritize network traffic (streaming, gaming and more).
• Parental Controls to select devices to manage contents(Website level) and schedule settings.
• Efficient antenna layout design minimizes signal interference and maximizes wireless performance.
• One (1) USB 2.0 port for network data transfers between the router and any USB drive.
• Built-in Print Server – Supports wireless printing from multiple computers.
• Built-in Media Server – Allows users to play music, video and view photos.
• Five (5) Gigabit Ethernet ports - Speeds can be up to 10 times faster than Fast Ethernet.
• VPN Server & Client - Secures remote access for privacy.
• Easy Web UI - Ensures a quick installation, making your network setup out of hassle.
• Easy Setup - Assistant with multi-language support provides quick & hassle-free installation.
• Guest network Access - Provides separate Wi-Fi network for your guest.
• IPv6 support ready (Internet Protocol Version 6)
• WPS
Security
• Secure Wi-Fi Encryption - WPA-PSK, WPA2-PSK, WEP(64/128bit)
• Guest network Access - Provides separate Wi-Fi network for your guest.
• Double firewall protection (SPI and NAT)
• Parental Controls to manage web filtering & accessibility by service or devices.
• Firewall protection - MAC/IP/Port/URL Filtering, Port forwarding, DMZ and more.
Processor
1GHz single-core
Memory
16MB flash and 128MB RAM
Physical Specifications
• Dimensions (WxDxH): 10.2 x 9.1 x 2.4 in. (260x230x60mm) (w/ 5dbi antenna folding)
• Weight: 0.769kg
Package Contents
• T3Av2 AC1200
• Power Adapter
• Ethernet Cable
• Quick Start Guide
System Requirements
Microsoft® Windows 7, 8, 8.1, 10, Vista®, XP®, 2000, Mac OS®, UNIX®, or Linux®
Microsoft® Internet Explorer® 5.0, Firefox® 2.0, Safari® 1.4, or Google Chrome™ 11.0 browsers or higher