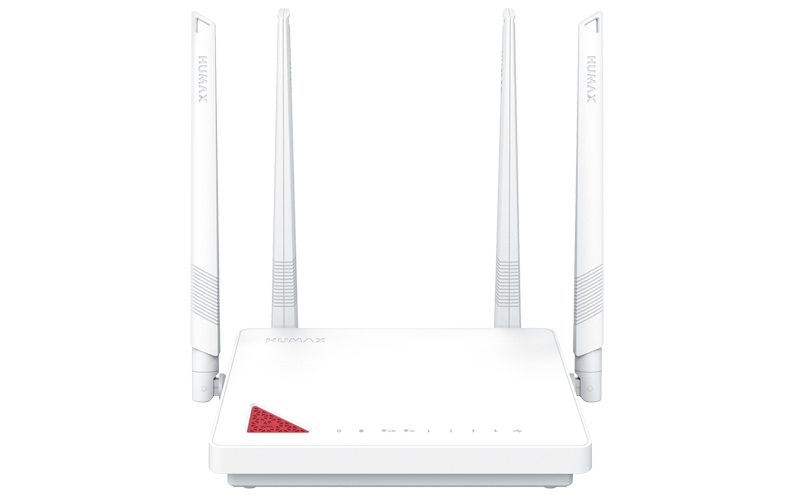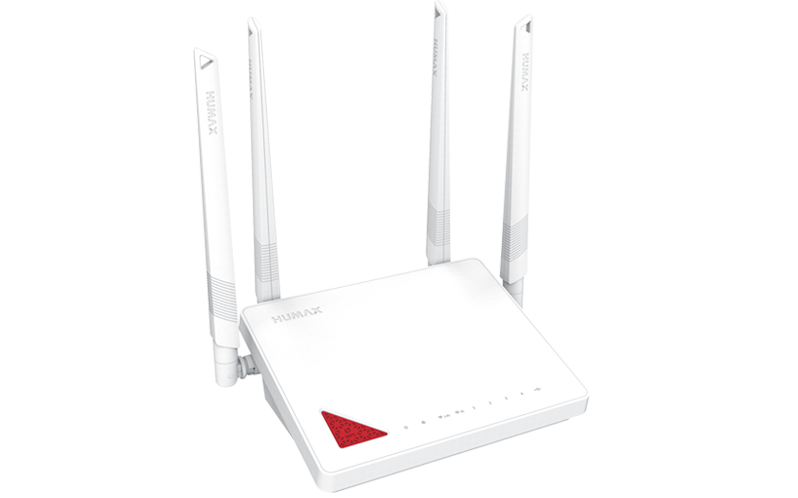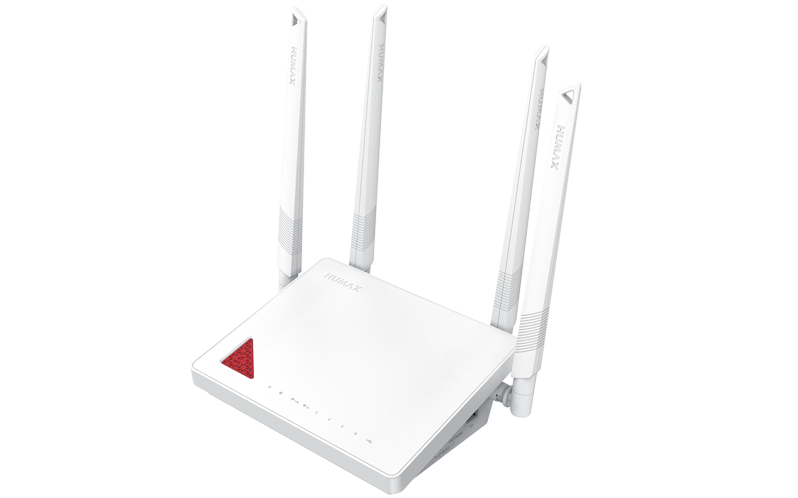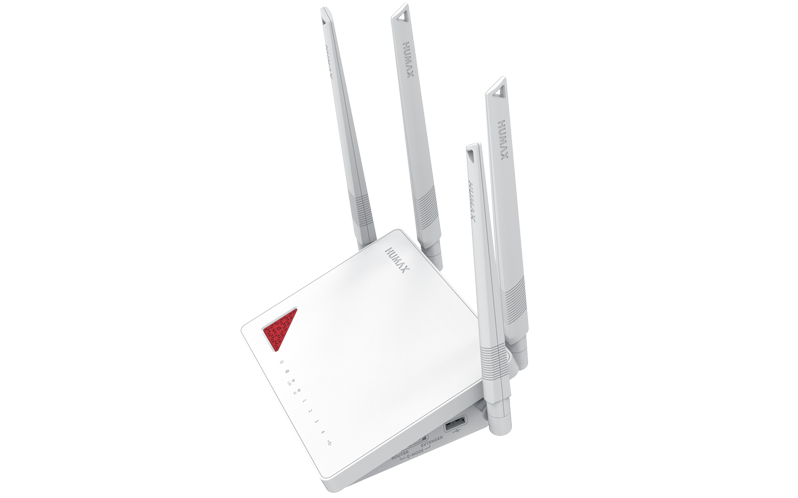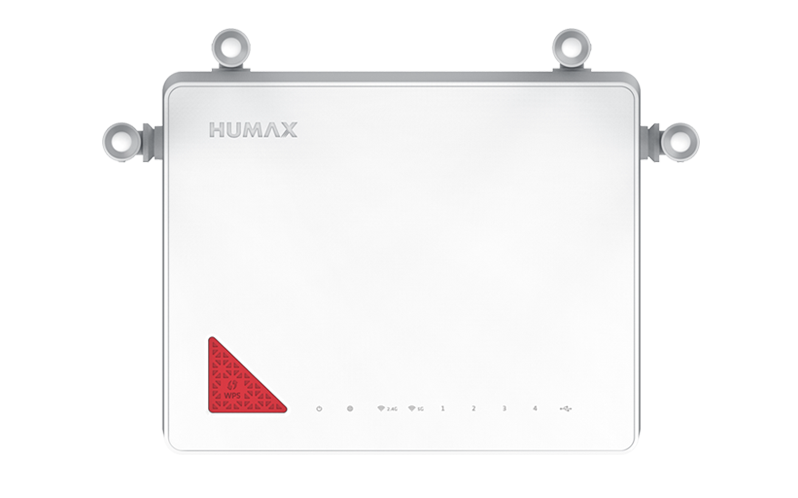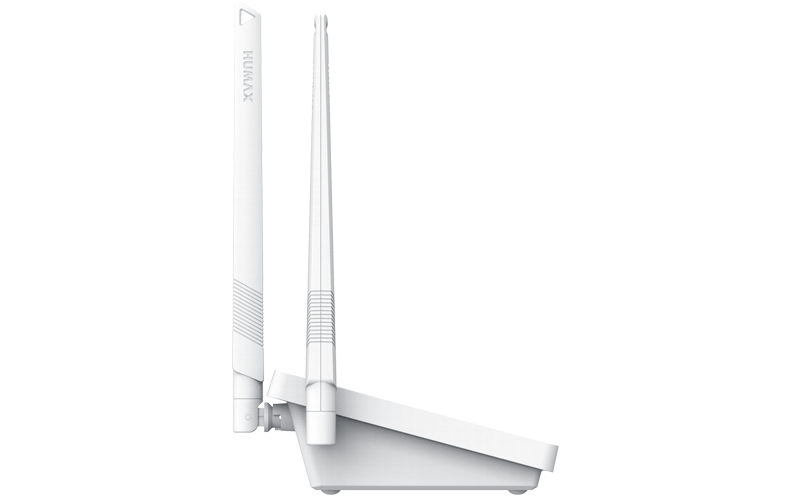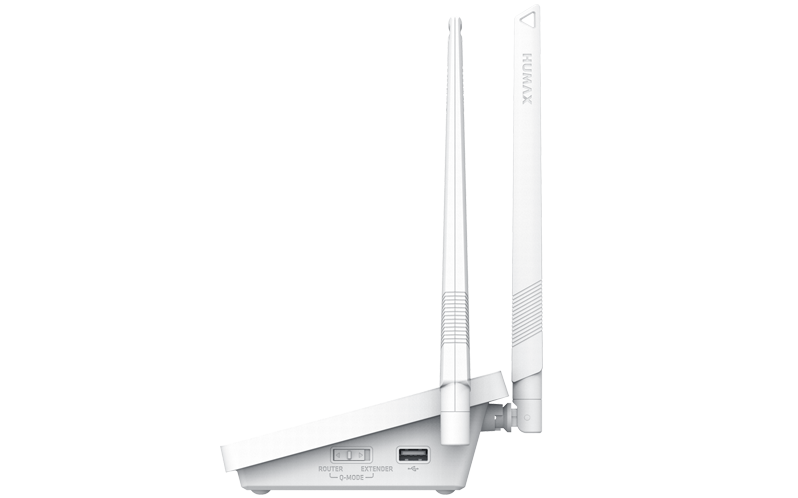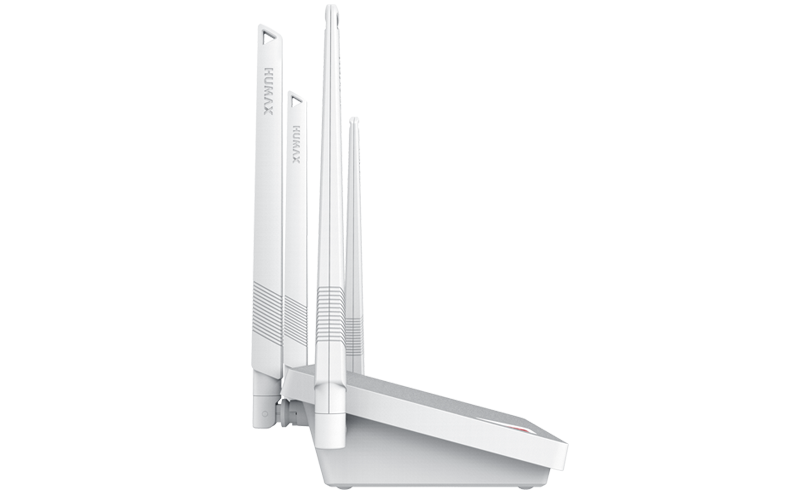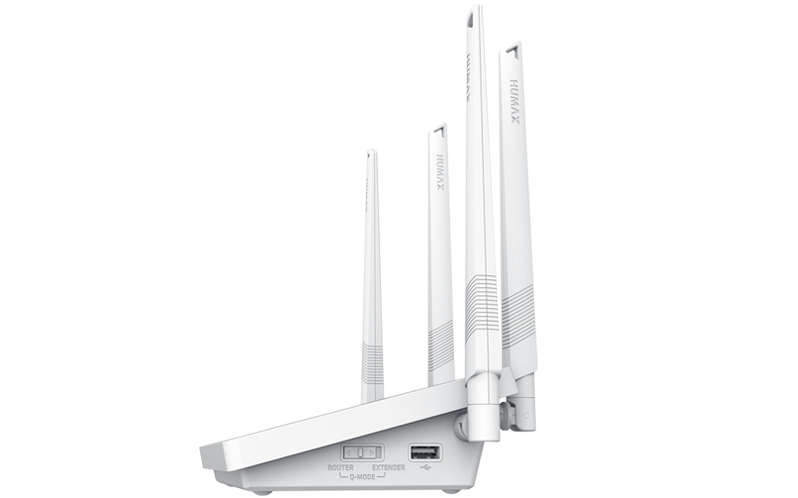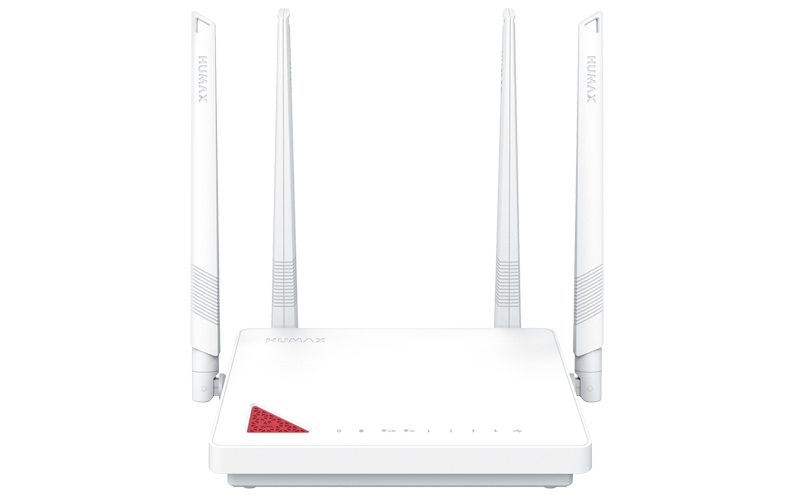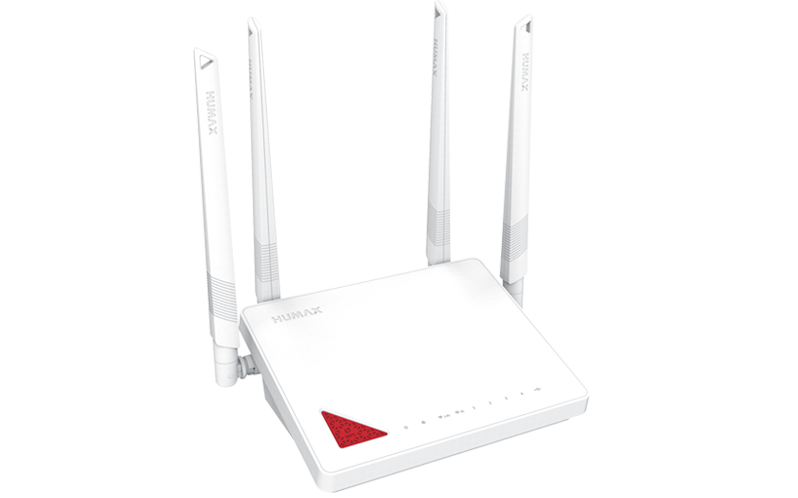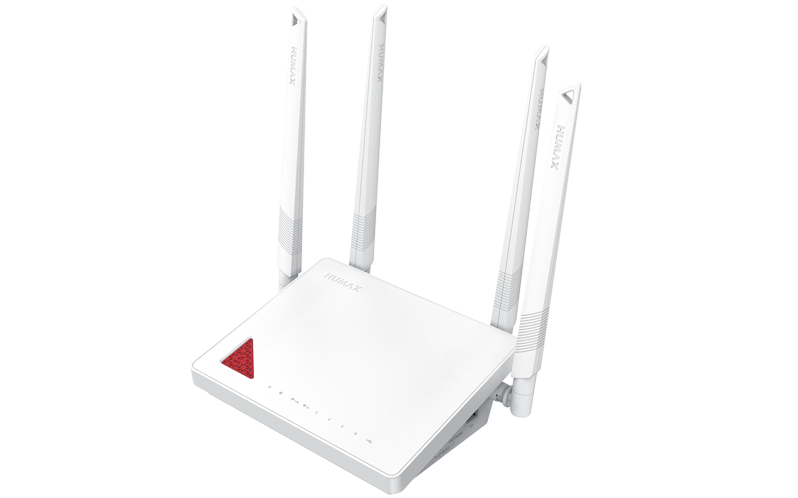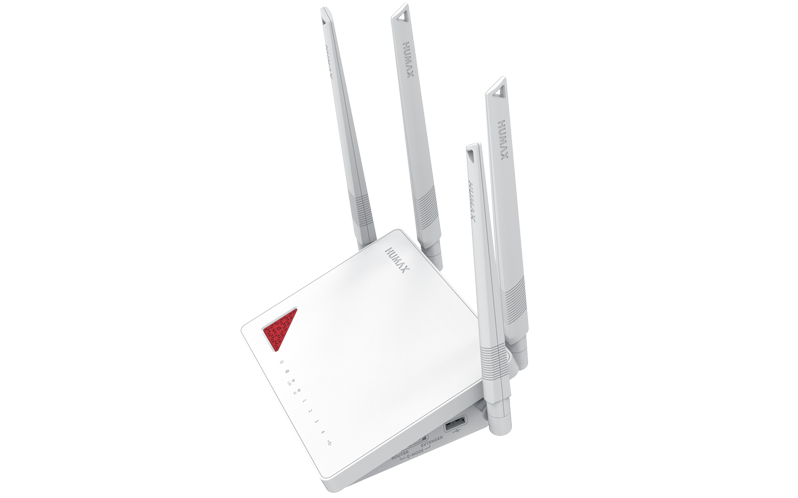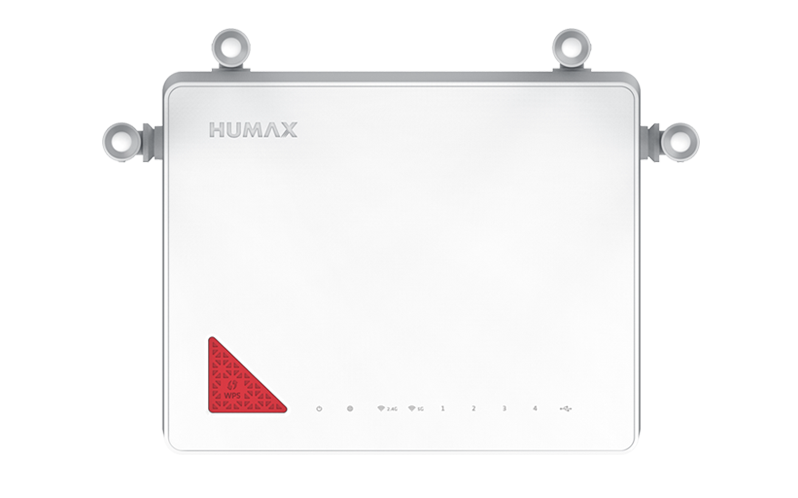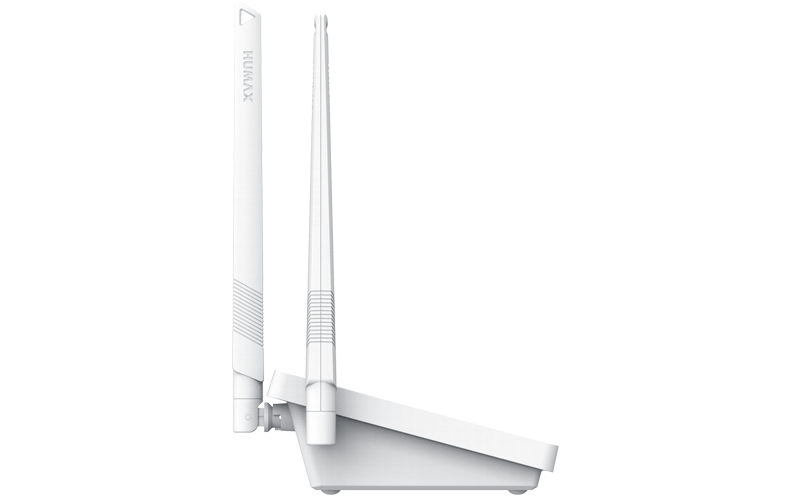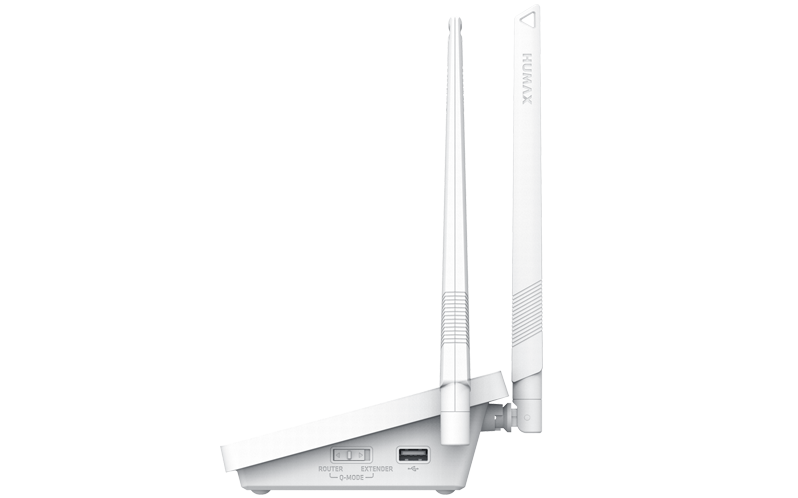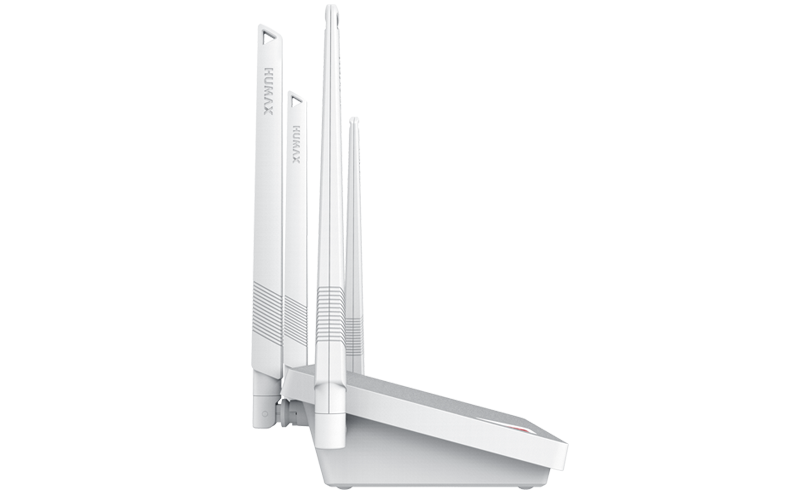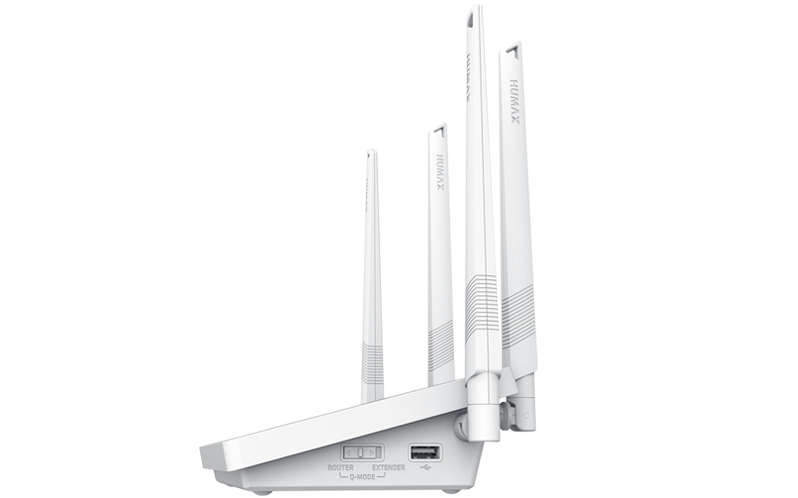 Multi-Function Wi-Fi Router
Wi-Fi Class: AC1200 (300Mbps at 2.4GHz, 900Mbps at 5GHz)
Dual Band Wi-Fi – Tx/Rx 2x2 (2.4GHz), 2x2 (5GHz)
Four(4) External Antennas
Adaptive Beamforming – optimize performance by focusing Wi-Fi signal
Parental Control – protect your children from internet addiction.
Quality of Service – prioritize network traffic (streaming, gaming and more)
USB for media sharing and network print server
Wired/Wireless Backhaul
IPv6 Support (Internet Protocol Version 6)
Roaming & Mesh
Simple, Seamless, and Powerful
Roaming & Mesh technology continuously connects to the best Wi-Fi signal available, allowing users
to move freely from room to room when used in conjunction with compatible HUMAX products.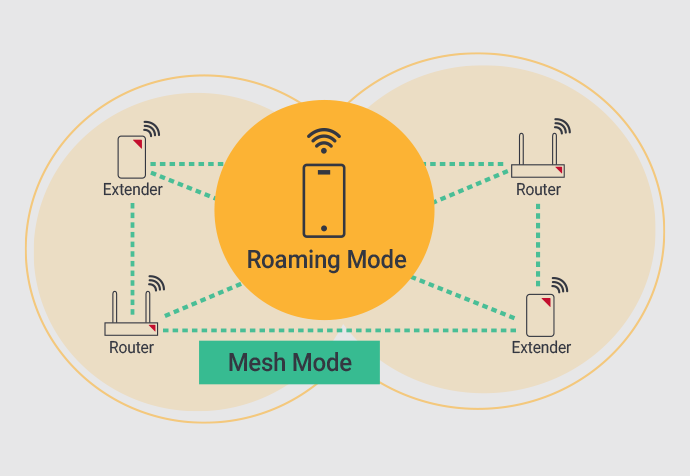 Q-MODE
Q-MODE supports 7 modes: 1) Router, 2) WISP, 3) Repeater, 4) Wireless Bridge, 5) Access Point, 6) Roaming, 7) Mesh. Q-MODE helps you configure your network with ease, regardless of the location or device.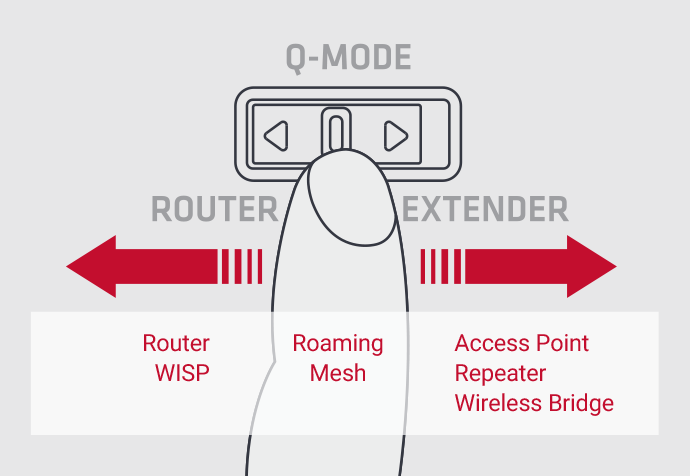 Easy Sharing
Share your favorite movies, music, and photos easily with T3Av2's media sharing function via the USB port. Remotely connect with your network to access and share files even when away.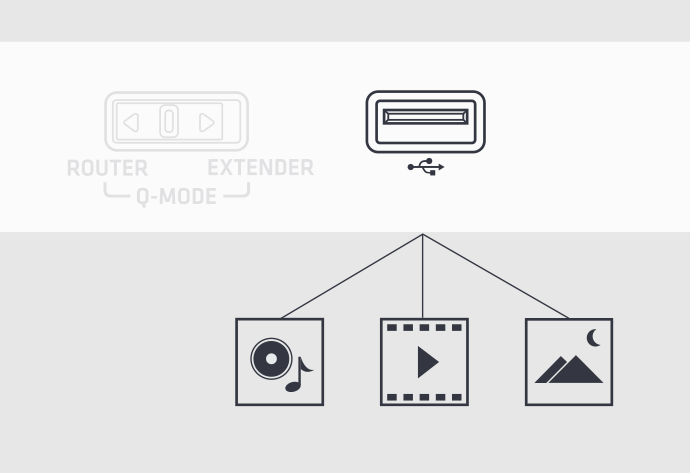 Speed & Reliability
802.11ac Support — Achieve speeds 3X faster than 802.11n for a single stream.
Giga Wired Speed — Gigabit ports for ultra fast data.
Quality of Service — Prioritizes network traffic(streaming, gaming, etc.)
Reliable Sharing — Supports FTP, Samba, Media server and network print server.
Security
Guest Network Access — Provides separate wireless access for guests.
Parental Control — Manage, protect, and control Internet access.
VPN Server & Client — Secures remote access for privacy.
TECH SPECS
Specification

Product Category
AC1200 Dual Band Smart Wi-Fi Router
Wi-Fi Technology
IEEE 802.11ac/n/a 5GHz, IEEE 802.11b/g/n 2.4GHz
Wi-Fi Performance
300Mbps at 2.4GHz, 900Mbps at 5GHz

Wi-Fi Band
Simultaneous dual band 2.4 & 5GHz
Antennas
External 2.4GHz 2T2R / 5G 2T2R

Advanced Wi-Fi Technology
Not applicable
MU-MIMO
Yes
Beamforming
Improves range & performance plus for both 2.4 and 5GHz devices.
Number of Ethernet Ports
Five (5) 10/100/1000 (1 WAN and 4 LAN) Gigabit Ethernet ports
Number of USB Ports
One (1) USB 2.0 port
Key Features
• AC1200 Wi-Fi (300+900 Mbps) speeds
• Roaming & Mesh technology always works connected to the best Wi-Fi signal where users can move room to room and floor to floor.
• Entertainment Port - Works as its optimal level to give you a super-smooth, uninterrupted streaming and gaming experience.
• Q-MODE Switch(Easy operation mode) supports 7 modes 1) Router 2) WISP 3) Repeater 4) Wireless Bridge 5) AP 6) Roaming 7) Mesh. Wherever the place is and whatever the device is, Q-MODE will help you make home network automatically and easily.
• Beamforming - Improves range & performance plus for both 2.4 and 5GHz devices
• QoS - Prioritize network traffic (streaming, gaming and more).
• Parental Controls to select devices to manage contents(Website level) and schedule settings.
• Efficient antenna layout design minimizes signal interference and maximizes wireless performance.
• One (1) USB 2.0 port for network data transfers between the router and any USB drive.
• Built-in Print Server – Supports wireless printing from multiple computers.
• Built-in Media Server – Allows users to play music, video and view photos.
• Five (5) Gigabit Ethernet ports - Speeds can be up to 10 times faster than Fast Ethernet.
• VPN Server & Client - Secures remote access for privacy.
• Easy Web UI - Ensures a quick installation, making your network setup out of hassle.
• Easy Setup - Assistant with multi-language support provides quick & hassle-free installation.
• Guest network Access - Provides separate Wi-Fi network for your guest.
• IPv6 support ready (Internet Protocol Version 6)
• WPS
Security
• Secure Wi-Fi Encryption - WPA-PSK, WPA2-PSK, WEP(64/128bit)
• Guest network Access - Provides separate Wi-Fi network for your guest.
• Double firewall protection (SPI and NAT)
• Parental Controls to manage web filtering & accessibility by service or devices.
• Firewall protection - MAC/IP/Port/URL Filtering, Port forwarding, DMZ and more.
Processor
1GHz single-core
Memory
16MB flash and 128MB RAM
Physical Specifications
• Dimensions (WxDxH): 10.2 x 9.1 x 2.4 in. (260x230x60mm) (w/ 5dbi antenna folding)
• Weight: 0.63lb (285g)

Package Contents
• T3Av2 AC1200
• Power Adapter
• Ethernet Cable
• Quick Start Guide
System Requirements
Microsoft® Windows 7, 8, 8.1, 10, Vista®, XP®, 2000, Mac OS®, UNIX®, or Linux®
Microsoft® Internet Explorer® 5.0, Firefox® 2.0, Safari® 1.4, or Google Chrome™ 11.0 browsers or higher